Abstract: In recent years, driven by the awareness of green energy conservation, smart grids with smart meters as their core have become a key area for the development of many countries in Europe, America, Japan and China. Grid technology faces an important revolution, not just a simple technological evolution.
Table 1: A simple comparison between the traditional grid and the new smart grid.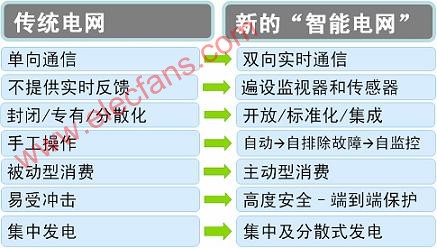 In smart grids, smart meters play a key role in enabling users to interact with the power system. For example, on the one hand, it helps power utilities to accurately understand the user's electricity consumption rules, and sets differentiated electricity prices for peak electricity consumption or low valley electricity consumption. On the other hand, users can also rationally adjust their electricity consumption plans to optimize electricity bills. From the perspective of the functional module, in addition to the power supply and metering modules, the smart meter also involves data storage functions and requires safe and reliable memory. In addition, two-way real-time communication is an important feature of the smart grid, so the communication module is crucial and needs to be selected. Suitable communication methods and corresponding optimal solutions.
In fact, the smart grid is a huge system that involves multiple levels of power, communications, and applications, as well as different network types such as local area networks (LANs) and wide area networks (WANs). Among them, LANs connect different types of smart meters in homes or buildings to data concentrators. In terms of network connection in this section, usually they do not require high communication speed. The main consideration is to reduce the cost. Common communication methods include wireless RF network, wired power line carrier (PLC) or power line broadband (BPL). )Wait. The specific communication method adopted needs to take into account factors such as the actual state of the power grid in each country. At the same time, the practice of first testing the country first will also provide reference.

Figure 1: Schematic diagram of the Linky project of French distribution company (ERDF), a French EDF company.
For example, Electricité de France (EDF), which has significant influence in the European energy market, launched Linky, the world's largest smart metering project, in mid-2009, and plans to deploy 35 million smart meters in France by 2017. This project selected PLC technology for the communication between the smart meter and the data concentrator, and then used General Packet Radio Service (GPRS) technology to transmit the data to the company's data center. Considering that the smart grid in China is still in the pilot phase, the choice of the French ERDF also has implications for other countries such as China.
Choice of PLC modulation technology Although PLC technology offers a low-cost option, the original intention of the power line is not for communication, so it also faces some challenges in the application of PLC communication. In particular, designers need to pay close attention to the signal attenuation and noise problems that will occur, and vice versa, require sophisticated transceiver technology.
In order to suppress the signal attenuation caused by noise, reduce the bit error rate, and improve the frequency efficiency, it is necessary to use a suitable signal modulation technique. In fact, when deploying smart meter reading systems, power utilities have a variety of different modulation methods, but there are three major ones, namely, orthogonal frequency division multiplexing (OFDM), phase shift keying (PSK) and spread spectrum. Frequency-shift keying (S-FSK).
The theoretical bandwidth of OFDM is high, but in reality it will lose a large part of the bandwidth under the noise conditions in the low-voltage network. Moreover, the application cost of OFDM is high, and it also consumes considerable power during operation. The application cost of PSK modulation technology is very low, but it is not particularly reliable, the performance will be affected by the phase noise, and can not cover the longer distance fully. In comparison, although the data rate of S-FSK is lower than that of OFDM, it is more suitable for smart meter applications. This modulation technology enables reliable communications while using lower cost and less power. Therefore, in the current smart grid PLC application, S-FSK modulation technology with low complexity, greater commercial potential, and reliable on-site application recording is undoubtedly the more suitable choice.
In fact, in the French ERDF's Linky project specification, the physical layer reference specification is IEC 61334-5-1/EN 50065, which specifies the modulation technology is S-FSK, and the communication frequency is mark frequency (Fm) 63.3 kHz and space frequency ( Spacefrequency, Fs) 74kHz, transmission rate 2.4Kbps, and physical synchronization with 50Hz electrical network frequency.
Application advantages of ON Semiconductor PLC modems ON Semiconductor has a long history of developing PLC modems. The 1.2 kb AMIS-30585 was introduced earlier. It was initially developed in compliance with the IEC 61334 standard (SFSK specification) and has been field-tested for eight years. The newly introduced AMIS-49587 is a highly integrated, standard-compliant, low-power PLC solution that supports four different modes required for PLC field deployment, such as NO_CONFIG, MASTER, SLAVE, and SPY. The personnel's raw data) is ideal for applications such as smart meters and smart street lights and smart sockets. Compared with AMIS-30585, AMIS-49587 supports a higher half-duplex adjustable communication rate rate of 2.4kb, meets new market requirements such as the ERDF specification, and is currently used by advanced equipment manufacturers (OEMs) in France. In China, several leading meter customers have also been selected. Both devices are pin-to-pin compatible, offering customers greater design convenience.
AMIS-49587 complies with the IEC61334-5-1 standard, providing customers with numerous application advantages. For example, the device is based on the ARM7TDMI processor core and includes both a physical interface transceiver (PHY) and a media access controller (MAC) layer, enabling it to combine analog modem front-ends and digital post-processing functions in a single-chip solution, with most competing The solution requires sophisticated embedded software to perform the same functions as the AMIS-49587. Using the AMIS-49587 modem, designers can simplify the design, develop a full suite of interoperable PLCs in less than a quarter of the time, and reduce development and application costs. In fact, the AMIS-49587-based modem scheme uses only two ICs (another NCS56502APLC line driver) plus 16 resistors, 17 capacitors, 2 diodes, 1 crystal, and 1 pulse transformer. The number is only 39, providing low bill of materials (BOM) costs.
In addition, AMIS-49587 adopts S-FSK modulation technology, which combines high-resolution filtering algorithms with automatic trusted value/repeater function to provide high-reliability data communication based on long distance power lines. Communication errors are lower than other alternatives and existing solutions. This device uses the on-board low-jitter phase-locked loop (PLL) to synchronize with the AC mains signal. Due to the 16-bit resolution analog front end, the device has excellent noise immunity and extremely high receiving sensitivity.
The ease of use of AMIS-49587 is also outstanding. Because of the built-in protocol processing capability, designers can save up to 50% of software development cost without having to deal with the PHY and MAC protocol transmission details, thereby accelerating time-to-market and reducing overall costs. The device is connected directly to the user's main microcontroller (MCU) via a serial interface.
AMIS-49587 is also compatible with single-phase and multi-phase meters to meet customer's different needs. In addition, its energy consumption is also lower than that based on digital signal processor (DSP), which is very suitable for the application of smart meter to concentrator PLC communication. To help designers speed up the development process, ON Semiconductor also provides an evaluation kit AMIS49587EVK for user development. This kit contains 2 PLC modems for configuring communication between the client and server; it also includes an open-source graphical user interface for configuring end-to-end communications.
ON Semiconductor supplies complete solutions for smart metering applications Compared to conventional meters, smart meters are undoubtedly more sophisticated systems. And ON Semiconductor provides a complete solution for smart meter applications. In addition to the above-mentioned PLC modem and line driver solutions for communications applications, it also provides solutions for key functions such as power management, measurement, and storage. In the power management module, AC-DC converters such as ON Semiconductor's NCP1014 and NCP1015, DC/DC converters such as LM2596, NCP3063 and CS51411, and low dropout (LDO) regulators such as MC78L05, MC7805, CAT6217 and CAT6219 can be applied. , and medium voltage and high voltage FETs such as NTMFS4823. In addition, in smart meter applications, ON Semiconductor EEPROMs such as EEPROMs and SDRMs, as well as ESD/TVS, SIM card interfaces, logic, USB protection, monitoring, I/O expansion, clocks, and temperature sensors can also be used.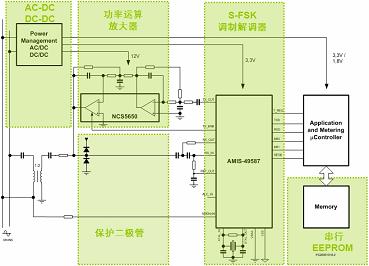 Figure 2: ON Semiconductor's solution for smart meters.
This article summarizes the role of smart meters in smart grid applications. Designers need to choose the appropriate communication method for the communication between the smart meter and the data concentrator, and PLC has become the choice of pilot companies and early pilot projects in the industry, and it has considerable demonstration and reference significance. Designers need to select a modem scheme for PLC communication. ON Semiconductor's modem products for PLCs comply with standards and customer specifications and provide numerous application advantages such as simplified design, lower cost, lower power consumption, reliable communications, and faster time to market. ON Semiconductor supplies smart power meter applications with complete solutions that include key functions such as power/power management and protection, communications, measurement, and storage, facilitating customer selection, helping them reduce procurement costs and speed time-to-market.
XX- line of portable X-ray units is designed to the principle of low cost and high reliability, which is characteristic in convenient to carry, easy to operate, and highly automated. X-ray tube and HT coil are all produced by DNDT which guarantees system consistency and keep this unit have a longer service life.
Weight is further reduced with the using SF6 insulation and Forced cooling fan, prolongs X-ray tube life, makes this unit suitable for construction site, field work and high above the ground work..
Control unit is designed with microprocessor control and frequency conversion technique. With functions of fully automatic warm-up program, fault display, over voltage and mis-start protection, the stability and service life are much improved
Portable X Ray Machine
Portable X Ray Machine,XXGH Panoramic X Ray Machine,XXGHA Panoramic X Ray Machine,Mini Portable X Ray Machine
Dandong Nondestructive Testing Equipment Co., Ltd. , http://www.ddchinaxray.com